Design Equipment
| | | | |
| --- | --- | --- | --- |
| Mechanical design CAD | Two (HITACHI GGM) | A1 Inkjet Plotter | One (HP) |
| A3 Inkjet Plotter | One (Kyocera Mita) | In-house LAN | One (NEC) |
Machinery Facility
| | | | |
| --- | --- | --- | --- |
| 6ft Lathe | Three | Horizontal Miller | One |
| 200 Slotter | One | Radial Drilling Machine | One |
| Machining Center | One | Electric Firing Furnace | One |
| Drill Press | Three | Contour Machine | One |
| Sawing Machine | One | High-speed Cutter | One |
| Argon Welding Machine | One | Semi-automatic Welding Machine | One |
| Arc Welding Machine | One | Vacuum Pug Mill | Two |
Experimental Installation
| | | | |
| --- | --- | --- | --- |
| 1200 ℃ Laboratory Vacuum Furnace | One | Gas Replacement Firing Furnace | One |
| Vickers Hardness Tester | One | Shore Hardness Tester | One |
| Black Dyeing Processing Machine | One | Tensile Compression Tester | One |
| Thermostatic Bath | Three | Three-point Bending Test Machine | One |
| Optical Microscope | One | Stereomicroscope | One |
| Vacuum Stirring Dissolving Tank | One | Laboratory Press | One |
| Ultrasonic Washing Machine | One | Charpy Impact Test Machine | One |
| Oil Cooler | One | Gas Rotary Hook | Two |
Incidental Equipment
| | | | |
| --- | --- | --- | --- |
| 2t Hoist | Two | 2t Pallet Truck | One |
| 500kg pallet jack | One | 1.5t Reach Forklift | One |
| Reciprocating compressor | Two | Screw Compressor | Two |
Plant
| | | | |
| --- | --- | --- | --- |
| Site | 660㎡ | Assembly Factory | 160㎡ |
| Macine Factory | 330㎡ | | |
Regional Contribution
Solar Power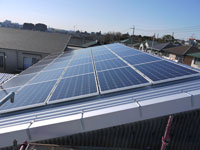 80 sheets of solar panels are installed on the southern roof of the entire factory to contribute to the effort to use reusable energy.
AED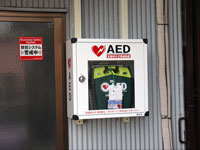 AED is installed outside of the office so that it may be used 24-hours.
Since a kindergarten is across the street from the factory, pads for children are prepared as well.
LED Street Light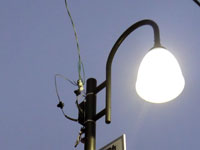 The street lights lighting the roads were switched to LED to contribute to energy saving and regional crime prevention.
Child 110 (equivalent of 911) house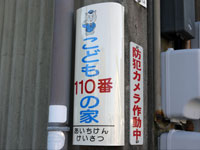 The road next to the factory is a school route for elementary school kids.
There is always someone present at the factory, so the location is registered as an emergency shelter.