Grease to prevent wear and corrosion of wire ropes.
MOLY ROPE DRESSER
Feature
Grease designed to prevent wear and corrosion of wire ropes for the purpose of extending their lifespan. Deeply seeps into the wire rope and reduces wear between wires. Further, adhesiveness and water-repellence keep the surroundings clean and protects the rope from the outside environment. Combined with molybdenum disulfide for excellent wear resistance.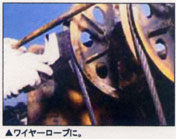 Osmotic force and anti-rust force
High osmotic grease can seep deep into the rope, thereby reducing wear between wires and prevents corrosion, from which extension of lifespan of wire ropes can be expected.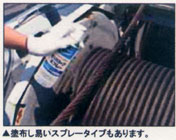 Molybdenum disulfide compound
Under extreme-pressure, molybdenum disulfide exhibits a low friction effect to prevent misalignment.
Adhesive strength and water-repellence
Since high viscosity oil is used as the base, there is adhesive strength, and little dripping of oil, which doesn't cause a mess. Further, because of water-repellence, it will not get washed off in rainy conditions and will protect the rope from the outside environment.
Stable performance in wide temperature range
Hardly any dripping under high temperature or peeling from hardening under low temperature.
Application is easy
Since the grease is soft with good osmosity, the grease can be applied even in winter when it hardens. Application methods are [brush application] [spray] [drop lubrication] [self-lubrication].
Application
For contact surface between wire rope and drum
For wire rope for various cranes of construction machinery, etc.
For the main cable/stay of cableway, stay/mooring cable (stainless rope) of suspension bridge, etc.
For leaf chain of fork lift
Operating temperature range: -10℃ to 150℃
※ Do not mix among different types of grease.