Characteristic of the wax-base solid lubricant
Our company product is characterized by machine processing of solidifying solid lubricant with soft natural hardening type oil such as paraffin and wax and pressing them against sliding surfaces and rotating bodies requiring a low friction coefficient to continually self-form solid lubrication films similar to coloring paper with crayons.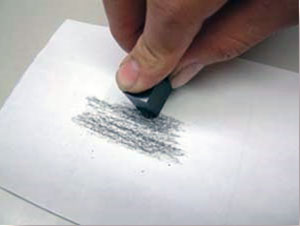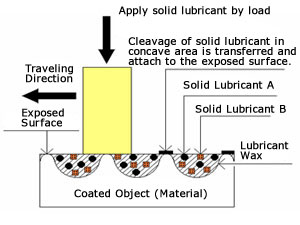 Further, once the film is formed, unless peeled from a high load, does not result in excess formation on top the film, which means that an ideal film is continually formed for the machine, and saves resources as a result.
Above wax-base solid lubricant was specially shaped, and TOKKI flange applicator is what was developed as a dedicated tool for providing wear-resistance to crane wheel flange.
Characteristic of the flange applicator
The flange applicator is an applicator that is easy to use, developed to prevent the wear of crane wheels using wax-base solid lubricant and it realizes a reduction in labor and cost.
Once the lubricant is set, galling on the flange surface at a level of medium filing will be fixed within about three days and, after the film is stably adhered to the flange surface, it will be maintained normally for four months or more with just a single Bordon wax.
Feature
Certain application volume. By forming the membrane of a specific extreme-pressure lubricant, we obtain a continued stable adhesion.
No lack of oil film, which extends the lifespan of a wheel flange part by 3-4 times.
No wheel slipping.
Safe with clean surrounding of crane.
Demonstrates anti-corrosion performance to prevent oxidizing.
Easy installation, retrofit to existing crane is available.
Characteristics of each component
---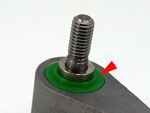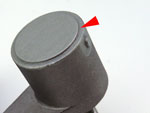 The external part of wax holder is fully dustproofed!
The rotating part is protected with dust seal and press fitted cap, providing smooth movement no matter how dirty the external part.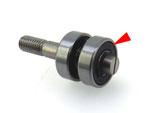 If by any chance waste water or dust enter the internal part, there is no cause for worry since two units of contact seal type bearings are used.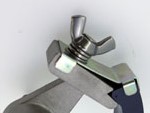 Wax can be easily replaced by loosening the wing screw.
The synergistic effect of spring washer and plate spring prevents the loosening of the wing screw.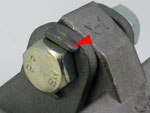 Adjuster is locked so that the angle adjustment bolt can be fixed in place by a single wrench.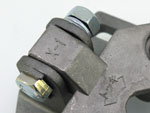 Marked with X-1 to X-4 model number and TOKKI logo.
Please be wary of copy products without model number and TOKKI logo.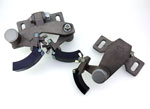 Stainless casting is used for body parts.
Further, trivalent chromate product is used for bolt, nut, and washers in consideration for the environment.